Slide 1
Glass Washer Repair and Service Specialists
We Offer A Quick And Reliable Breakdown Service. Every Repair Comes With A Full 12 MONTH GUARANTEE
Slide 1
Glass Washer Repair and Service Specialists
We Offer A Quick And Reliable Breakdown Service. Every Repair Comes With A Full 12 MONTH GUARANTEE
GUARANTEED REPAIRS BY EXPERIENCED TECHNICIANS
Our guarantee is a standard part of the service we provide. All parts supplied and fitted by ASL are covered by our full 12 month parts and labour warranty. Giving you the assurance you need when booking an engineer.
With extensive knowledge of all glass washers currently in circulation. Leading to our mission,  allowing you to maximise productivity with minimum fuss in the quickest possible time.  We are experts in glass washer service and repair.  Although all machines eventually breakdown, when this happens, call our number or email  and our friendly knowledgeable team will be glad to assist you with booking a service call. With a very high first time fix rate and quick response times you'll have a woking machine in no time.
We offer a simple, no hassle, quality service you can rely on.  We have helped thousands of businesses give a great experience to their customers by keeping their equipment in good condition, for all makes and models including ClassEq, Winterhalter, Sammic, Hobart and many more see below for more details.
Our engineers are some of the best, and they have all been personally handpicked by us for their level of expertise. They constantly report to us from the field, so if the one assigned to you is going to be late, we let you know of this in advance and give you an estimated time of arrival.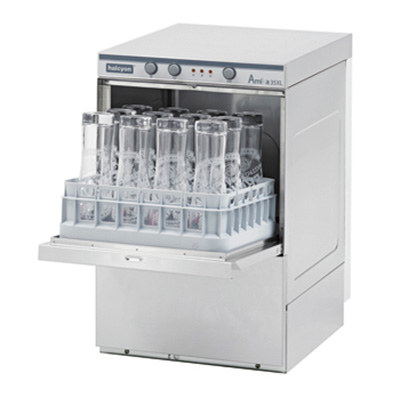 Your glass washer is an integral part of your operation, however like all machines the occasional breakdown is unfortunately inevitable. To help speed up the process of booking a technician, our phone lines are open 24 hours a day to enable you to log your breakdown during your working hours.
One Problem One Call
We strive to attend to every service request as soon as possible, achieving consistently 48 hours or less from time of call. Our work is 100% guaranteed for the next 12 months. Any parts we replace also carry the same warranty. We stock up on major parts, so we are able to carry out part(s) replacement on the first visit itself, nine times out of ten. Any part that is unavailable is ordered for by express delivery, and we do not charge you any callout fees for the second visit.
If like many minimising costly down time is essential why not ask the team about our service contracts. All coming with regular PPM dates, unlimited breakdown cover and many other great benefits.
(You will not be charged the callout fee for the second visit – all you need to pay are the price of the part and labour costs)
Here's a list of just a few of the main brands of glass washer that we regularly work with.
Adler
Angelo Po
Aristarco
ATA
Bobeck
Cimsa
Classic / Class EQ
Clenaware
Colged/Dexion
Comenda/Dawsonleo.
DIHR
Electrolux/Zanussi
Elettrobar
Elframo
Fagor
Falcon
Hemerson
Hobart
Hoonved
IME/Omniwash
Krupps
Lamber
Luxia
Mach
Maidaid
Marels/Modular
Mareno/Lasa
Meiko
Nelson
OEM
Proton
Project Distribution
PRODIS
Rancilio
Sammic
Teikos
Winterhalter
WashriteSilanos